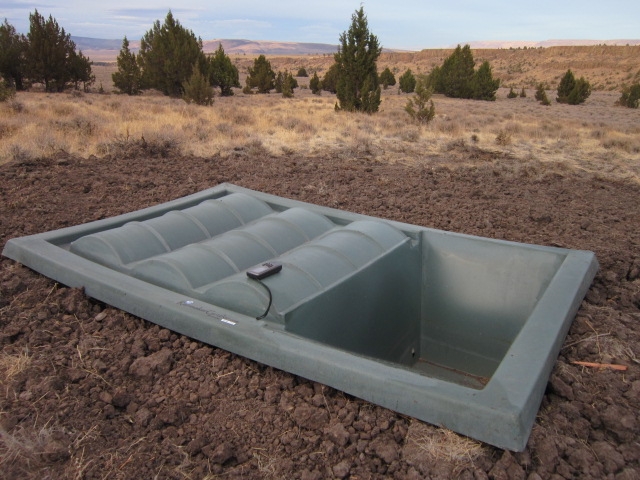 Dome-Top 500
Best Use: Deer and Upland Bird
Weight 220 lbs
Dimensions: 96″ x 64″ x 29″ Tank (Total 39″)
Capacity 500 Gallons
Heavy Duty Polyethylene Construction
Virsatility for Deer & Bird
Make water available at ground level to both large and small animals with our Dome-Top Guzzler. Deer can drink directly from the open trough, and the built-in ramp gives small animals and birds easy access in and out of the drinker.
The Dome Top lid has an integrated gutter system to channel rain water into the tank. You can also add a collection roof over the top or off to the side to increase the collection area.
The dome design helps to discourage animals from walking on the top. This guzzler has thicker walls to handle larger animals such as deer. It is 220 lbs versus the 200 lbs of the "Full Ramp" for upland birds. All Rainmaker guzzlers are compatible with CRP and other conservation programs. They will withstand sub zero temperatures. No need to drain for the winter. Sand granite color.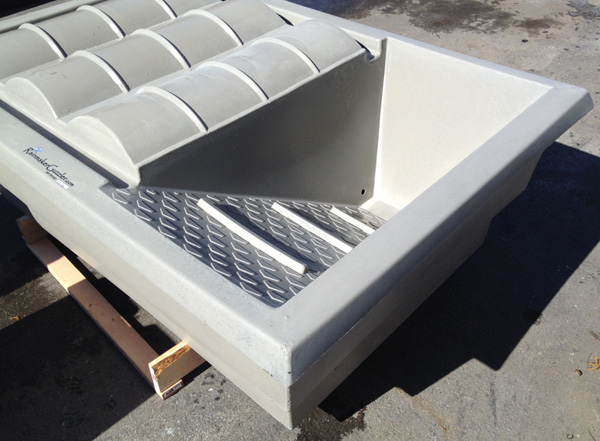 Features
Capacity 500 Gallons

Both Deer and Bird Can Access Water

Reduced Water Evaporation – Less Exposed Water

Dome Top with Integrated Gutter System

UV and Freeze Tolerant Polyethylene

Stack-able for Easy Transport. Fits in any std pickup

A 35 Degree Ramp for Easy Wildlife Entry and Exit
Optional Float-Valve System
Price $65
If you plan to connect your guzzler to a water line, you may want to consider adding a Float-Valve. We've chosen this PVC valve with stainless steel fittings because it resists calcification and mineralization. Includes PVC/Stainless Steel float-valve, stainless steel chain and arm, and poly float.
We will install the 1″ threaded fitting in any location at no charge. A good location is about 6″ down into the base (24″ off the bottom). This makes it easy to access the valve and doesn't require burying the line 30″ deep.
Note: If you are in an area that has prolonged, hard freezes in winter, you may need to take precautions to prevent damage to float valve. Without a float-valve, the guzzler itself will withstand hard freezes just fine.